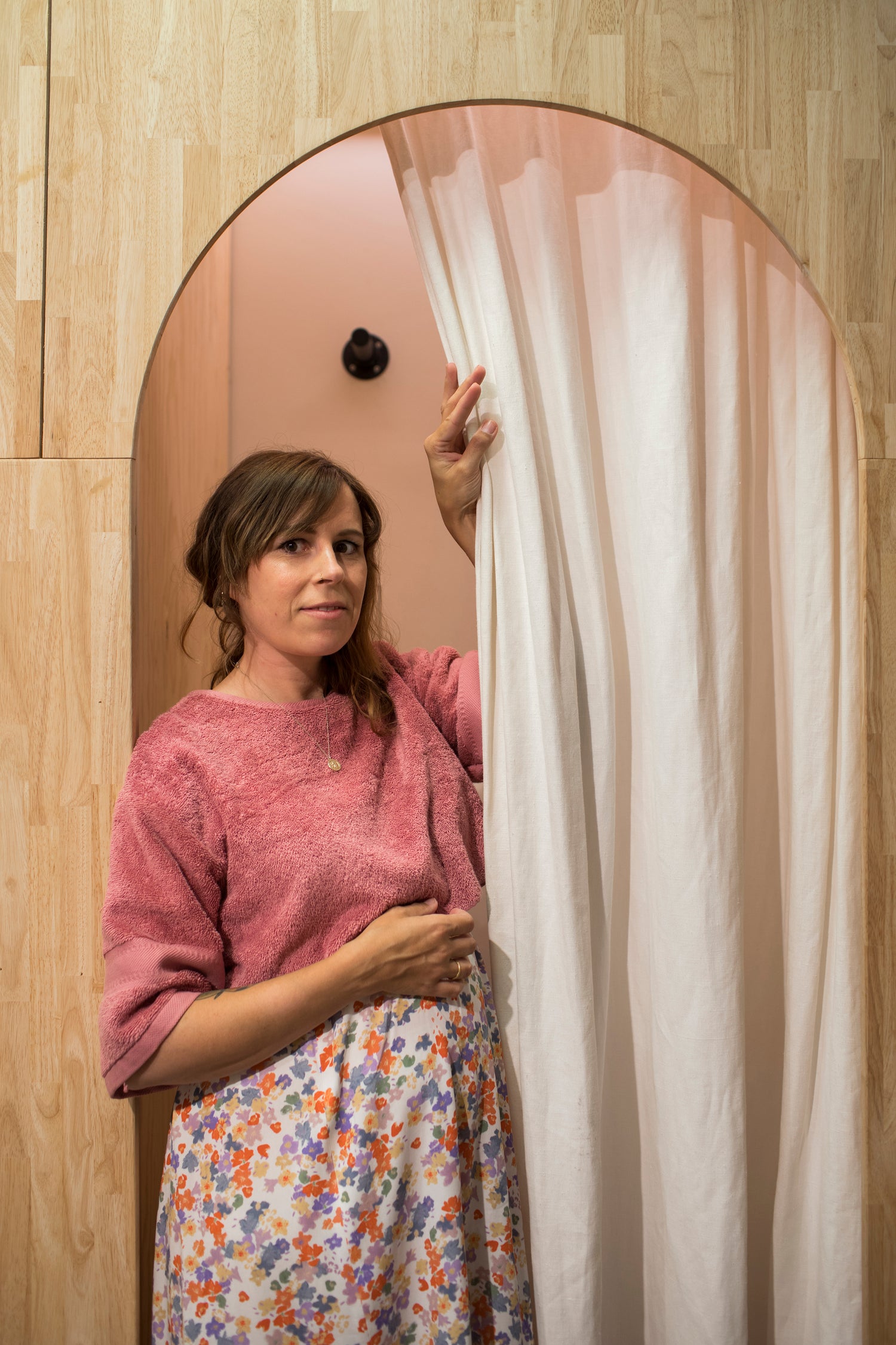 Kledij voor een paar maanden? Dacht het niet!
Als je een beetje bewust bezig bent met de impact van mode en kledij, dan draag je je items zo vaak mogelijk. Er is echter één periode in ons leven (we richten ons hier even exclusief aan de vrouwen) waarin het blijkbaar heel normaal is een splinternieuwe garderobe te kopen die je maar een paar maanden draagt: de zwangerschap.
Een serieuze waste of resources, als je 't ons vraagt. En laat ons eerlijk zijn: zijn zwangerschapskleren écht mooi? Meh. Gelukkig zijn er simpele trucs om je de hele zwangerschap comfortabel en mooi te kleden zonder een heleboel speciaal daarvoor ontworpen items aan te kopen. Ga in plaats daarvan voor stuks die je ook na je zwangerschap perfect jaren kan doordragen. Buikske klaar? Lezen maar!

Tekst: Emma Didier. Foto's: Ellen van den Bouwhuyzen
DRAAG WAT JE HEBT
'Dat gaat niet, he, want ik kan er niet meer in!' Think again. Ga eens met andere ogen door je kleerkast. Goed, je krijgt een hemd misschien niet meer toe, maar je kan het misschien wel open dragen? Idem voor doorknoopjurken, die kunnen perfect als lange jas. En T-shirts en truien worden dan wel te kort, je kan ze nog steeds in een broek of rok met hoge taille kwijt, of onder een salopette. Dan toon je toch gewoon vol trots die buik? De laatste jaren zijn jurken ook best wijd, misschien passen die gewoon wél? Denk dus niet zomaar dat 'niets nog past' en probeer eerst alles uit.
HOUD DE REK ERIN
Stretch en elastiek: na ijs en chocolade de beste vrienden van de zwangere vrouw. Broeken met ritsen en knopen, dat gaat even niet, sorry (al zijn er wel trucjes om je broek voor die eerste maanden een maatje groter te maken met een stukje elastiek, op Pinterest vind je er alles over). Ga op zoek naar rokken en broeken met een hoge taille en met een elastiekboord of heel veel stretch in de stof. Trek die over je buik, stop een van je favoriete shirts erin en hop, supercomfortabel gekleed.
Rok Knowledge Cotton Apparel, met elastiek.
STEEL ZO VEEL JE WIL
Krijg je je hemd niet meer toe? Geen probleem toch: de kans dat je lief, man of broer hemden in de kast heeft hangen, is zeer groot. Ga op jacht in zijn kast. Steel een hemd, knoop het in je taille of stop het in een rok of broek met hoge taille. Voilà: aangekleed - en nog eens superhip ook. Hetzelfde geldt voor truien. Die voor mannen zijn meestal minder getailleerd en vallen ruimer. Genoeg plaats voor je buik, dus!
Bij Supergoods kan je ook oversized truien vinden van verschillende merken
FLEXIBELE KLEDIJ IS DE MAX
Er is ook kleding die zich aan alle situaties aanpast. Zo vallen salopettes uit zichzelf al redelijk ruim en vaak zijn er knoopjes aan de zijkant die je wat meer buikruimte geven. Een topper deze zomer: een sportbeha onder je salopette en verder niets. Ideaal voor de festivals!
Ga daarnaast ook op zoek naar broeken met een lint in de taille. Dat kan je dan wijder of strakker aantrekken naargelang je de broek onder of op je buik draagt. 
Overall van Dedicated
WIJ WILLEN WIJD!
Een echte no-brainer en nu helemaal in de mode: wijde jurken. Ook niet-zwangere vrouwen hebben het graag comfortabel, zeker in de zomer. Ga voor wijde jurken in verschillende lengtes, met extra veel ruimte en dus vooral zonder strakke taille. Draag ze in de winter gewoon door met een paar panty's en een trui (gestolen van je lief, weetwel).
Ook ideaal voor wie extra veel kroketten wil eten tijdens de feestdagen!
Een jurk van ARMEDANGELS
SIZE IT UP!
Tijdens de zwangerschap kan een maatje meer echt het verschil maken tussen vrij ademen en stikgevaar. Probeer bij mooie stuks dus gewoon eens een grotere maat. De kans dat je die size up na de zwangerschap nog even aanhoudt, is niet onbestaand. Heb je toch snel terug je oorspronkelijke maat? Broeken en rokken met een rekker in de taille zijn heel gemakkelijk door een naaidienst een maatje kleiner te maken.
Een rokje van ARMEDANGELS
MAIUM JASSEN
Toptip: ga voor een jas die ook ruimte biedt voor je buik. Je huidige jas open dragen tijdens een stortvlaag is niet zo tof. De jassen van MAIUM hebben ritsen aan de zijkant om makkelijker te kunnen fietsen, en kijk: met die ritsen open past ook je buik er perfect in!
Maium jassen
GOOI JEZELF VOL ACCESSOIRES

Je voelt je tijdens de zwangerschap niet altijd top. Er zijn uitzonderingen, maar de meesten hebben toch het gevoel dat niets nog past. Eén oplossing: gooi jezelf vol coole accessoires! Een toffe sjaal, een nieuw juweel (jij verdient dat, je maakt een mens in jezelf) en het gemakkelijkste paar schoenen dat je kan vinden (tip: velcro!). Sidenote: koop geen verzorgingstas. Ook dat is een aankoop die maar een paar maanden dienstdoet. Investeer in een mooie grote tas die je later gewoon blijft gebruiken. Je baby kent echt het verschil niet en die schattige beertjes kan hij of zij nog niet eens zien.
HIER KAN JE MOEILIJK OM HEEN
Om het maximum uit je eigen kleerkast te kunnen halen, is het wel handig een paar zwangerschapsbasics in huis te hebben. Een zwarte legging (lang en/of kort) waar je een lang hemd over kan dragen en thuis in kan chillen met een oversized trui erop. En een tweetal langere tops die je onder zo'n hemd of open jurk kan dragen zijn ook altijd handig. Niet doen: een jumpsuit. Kan erg comfortabel zijn, maar weet je hoe vaak je moet plassen als je zwanger bent? Awel.
Gepubliceerd in het Good Stuff Magazine