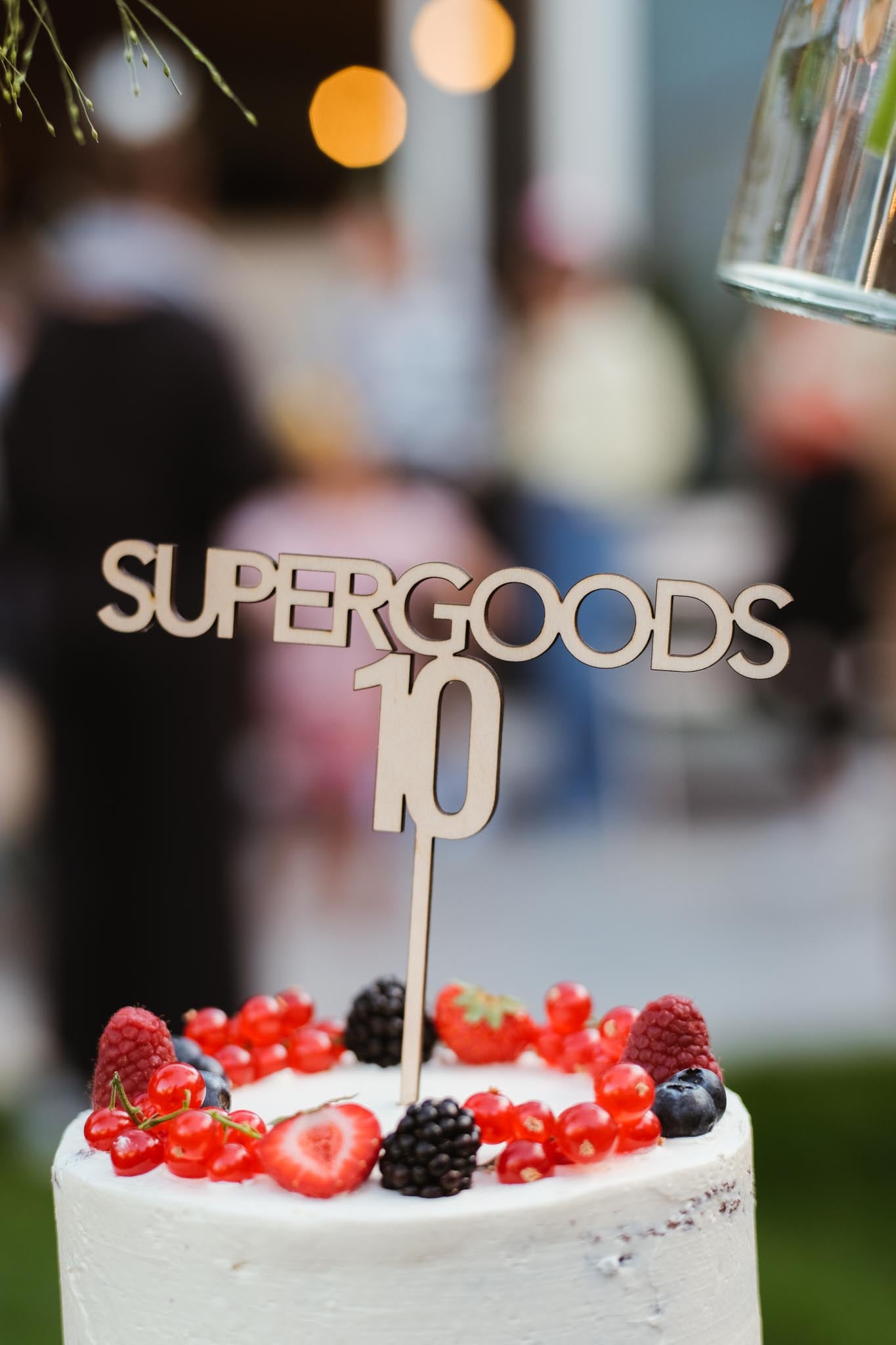 Supergoods, het verhaal door founders Anne & Tonny
SUPERGOODS OPENT 9 AUGUSTUS 2012 IN MECHELEN IN DE ONZE-LIEVE-VROUWE- STRAAT 116 EN ONLINE
Founders Tonny en Anne wilden graag een ecologische winkel openen in de zich nog ontwikkelende en wat alternatievere Mechelse shoppingstraat: de Onze-Lieve-Vrouwestraat, vlakbij de Vijfhoek. De missie was letterlijk' een duurzame levensstijl promoten', en dus meteen ook aantonen dat eco & fair gewoon leuk, normaal en misschien zelfs een tikje hip is. En al zeker niet 'geitenwollensokken'.
De eerste versie van Supergoods was toch wat anders dan de winkels van nu. Op het logo van Supergoods stond 'ecodesign' vermeld. Er hing wat minder mode en kleding in de winkel - al was die natuurlijk al wel eco en fair - en je vond er tal van duurzame gadgets, meubelen, lampen enzomeer. Veelal van gerecycleerde materialen. Vanaf het begin was Supergoods een hotspot voor duurzame cadeaus in Mechelen.
De webshop supergoods.be opende ook al meteen, maar het was wel al duide- lijk dat de core business de offline winkel was. In de allereerste jaren was er geen personeel, behalve jobstudenten, bijvoorbeeld Sandra, Charlotte en Annabel.


2016: OPENING SUPERGOODS GENT IN AUGUSTUS OP DE BRABANTDAM

Tonny en Anne waren geïnteresseerd om de twee pionierende ecomode- winkels van Today Is A Good Day in Gent en in Antwerpen over te nemen, omdat de eigenaar met de winkels wou stoppen. Ook modeontwerpster Olga was geïnteresseerd in de winkel in Gent. Helaas ging het project niet door, omdat de winkelpanden toch niet zo ideaal waren, en vooral ook omdat financiering voor zo'n project niet makkelijk te vinden was.
Zo leerden Anne en Tonny dus wel Olga kennen, die een grote passie voor duurzame kleding met hen gemeen had. Enkele maanden later besloten ze te gaan samenwerken onder het Supergoods concept, dat ondertussen meer een volwaardige kledingwinkel geworden was. Hoog tijd voor een update van de website en het logo, dus! Bovendien werd het Supergoods-winkelconcept nog verder verfijnd. Naast fair fashion, met plaats voor duurzame jeans, vond je er vanaf toen ook natuurlijke cosmeticaproducten en accessoires. Nadat Olga uiteindelijk een klein maar fijn pand gevonden had, was de opening snel een feit. En al snel was het duidelijk dat er voor Supergoods in Gent wel degelijk een publiek was!

ZOMER 2019: OPENING SUPERGOODS ANTWERPEN IN AUGUSTUS
Ondanks de grote verwachtingen voor de onlinehandel bleek het moeilijk om de webshop van Supergoods genoeg te doen groeien om rendabel zijn. Het was dus duidelijk dat als Supergoods nog wat moest groeien, dit toch vooral offline zou moeten gebeuren met een nieuwe vestiging.
De buurt van Nationalestraat in Antwerpen ging het worden, omdat het aanbod in duurzame mode er niet zo groot was, terwijl er bijvoorbeeld in het kleinere Leuven al meerdere leuke fair fashion winkels waren. En in Brussel leken de bestaande duurzame winkels het soms echt moeilijk te hebben.
Het concept bleef hetzelfde als in Mechelen en Gent, met nog meer aandacht voor kleding en modeaccessoires en ook de ondertussen heel populaire sneakers van VEJA. De medewerkers Kaat en Jo, al goed getraind in Mechelen gingen nu in Antwerpen aan de slag. En zo vestigde Supergoods zich in de gezellige Kloosterstraat. Een goede keuze of niet, dat was nog niet duidelijk, want toen kwam...

2020-2021: DE WERELD STOND STIL MET DE CORONACRISIS
Zes maanden nadat de nieuwe winkel in Antwerpen openging, moest alles op slot. Dat was bijzonder moeilijk, ook mentaal, met een grote stapel facturen aan het begin van het seizoen en een winkel in Antwerpen die nog in de kinderschoenen stond.
Gelukkig was er een grote reflex om lokale handel te steunen, zowel horeca maar ook de winkels. De webshoppakjes vlogen buiten in sneltempo en de webshop kon ongeveer de normale omzet van Supergoods Mechelen evenaren. Uiteraard hielp dit enorm.
Medewerkers Annabel en Ann moesten al snel terug aan het werk om dit alles bol te werken, omdat Anne en Tonny thuis waren met corona en quarantainemaatregelen...
Ook Olga in Supergoods Gent had het zeker niet onder de markt in deze periode, omdat haar winkel niet gelinkt is aan de webshop, en dus zorgen we voor financiële verlichting.
Dankzij de enorme trouw van de klanten hebben alle winkels deze onvoorstelbare en donkere periode kunnen overleven!

2021: EINDELIJK EEN KLANTENKAART
Na lang zoeken lanceert Supergoods een klantenkaart: de Good Vibes Club. Een extra motivatie was dat we de klanten wilden bedanken om zo trouw te blijven tijdens de moeilijke pandemieperiode.
Het idee was ook om je punten, of de Good Vibes, ook te kunnen te laten circuleren voor een goed doel. Naast kortingen, is het ook mogelijk om een donatie te doen aan RiverCleanUp, The Cup of World Bicycle Relief.
De klanten appreciëren duidelijk dat hun trouw wordt beloond.


SUPERGOODS IN 2022


Er blijft veel werk in en aan de winkel. Na 10 jaar wisselen betere perioden mindere nog steeds af en blijft er nood aan het verfijnen van het concept en de winkelervaring. Om dat in kaart te brengen, kwam in Mechelen voor het eerst een marketingstagiaire, Wendy, over de vloer om een klantenenquête te maken. Het bleek duidelijk dat de klanten best tevreden waren - goed nieuws - maar dat er ook nog een en ander te verbeteren valt - ehm... ook goed nieuws!
Supergoods begint ook samen te werken met Be The Fibre om de oude kleding van klanten te kunnen hergebruiken en nog meer circulair te werken.
Om 10 jaar Supergoods goed te beëindigen en de volgende jaren goed te beginnen, zijn er plannen om de winkel van Supergoods Mechelen opnieuw in te richten.
Gepubliceerd in Good Stuff magazine