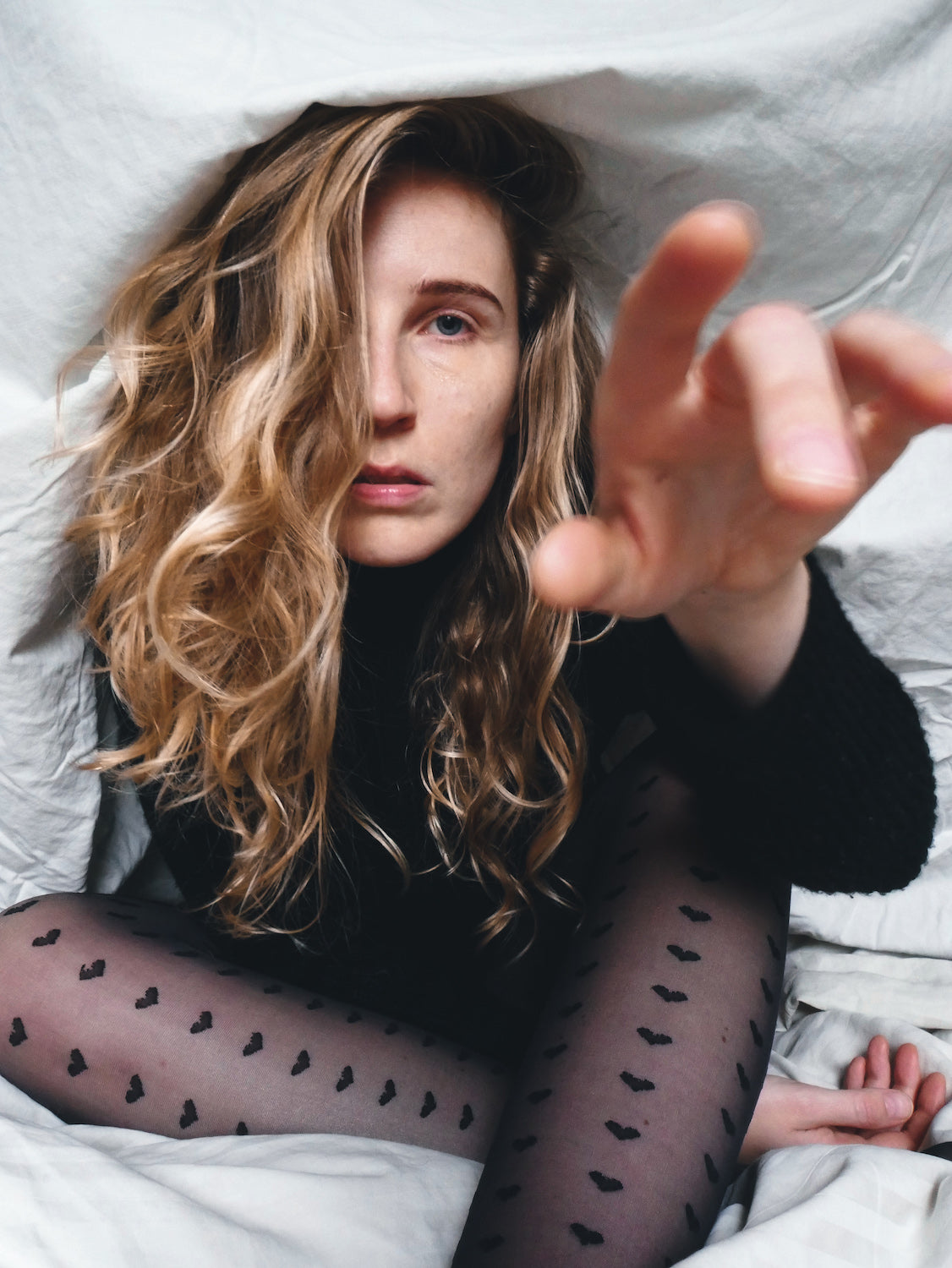 Duurzaamheid luchtiger met Eve The Econista
Op zoek naar duurzame, interessante accounts om te volgen op Instagram? Dan is @eve.the.econista zeker een aanrader. De Gentse Eveline Flamand (36) steekt heel veel creativiteit in haar posts. De filmpjes van deze selfmade actrice en editor zijn een streling voor het oog. De liedjes met aangepaste teksten zijn stuk voor stuk oorwormen.
Tekst: Cleo Dursin foto's: Eve The Econista
Wat is jouw band met Supergoods?
'Toen ik begon met mijn zoektocht naar een duurzamere levensstijl, kwam ik bij Supergoods terecht en leerde ik Olga, de eigenaar van Supergoods Gent, kennen. Ik stond ervan versteld hoeveel zij over duurzaamheid weet. Ik heb zo veel van haar geleerd! Ze raadde me ooit aan om een kledingstuk niet te kopen, omdat ik er te veel over twijfelde. Ik vond het heel frappant dat iemand zo tegen haar winkel kon praten. Heel het duurzame plaatje klopte gewoon bij Supergoods. Sinds een paar jaar begeleid ik, in samenwerking met Mixua, Eco Tours in Gent en dan gaan we soms langs bij Supergoods. Ik heb Olga ook al horen spreken op panelgesprekken.'
Wanneer ontstond jouw interesse in duurzaamheid?
'Na mijn deelname aan Dagen Zonder Vlees, ben ik mij meer beginnen informeren over wat er allemaal gaande is in de wereld. Vroeger wist ik daar wel vaag iets over, maar ik was er niet echt mee bezig. Ik voelde niet die urgentie om iets te veranderen. Hoe meer ik er echter over las en hoe meer documentaires ik bekeek, hoe meer ik de omvang van het probleem besefte. Dan ga je je automatisch afvragen wat je allemaal kan doen om je steentje bij te dragen.'
'In het begin was ik heel erg gefocust op het individuele en postte ik daar vooral over op mijn sociale media. Ik deed dat om anderen te inspireren en om tips te delen. Maar ik begon meer en meer te beseffen dat er meer nodig is dan al die individuele acties. Ook de industrie en de politiek moeten mee veranderen. Mijn kijk daarop is breder geworden en ik denk dat je dat ook kan zien op mijn sociale media. Ik probeer nu ook bredere maatschappelijke thema's in de kijker te zetten. Hoe komt het bijvoorbeeld dat wij overconsumeren? En wat kan de politiek daaraan doen?'
Hoe heb je je eigen leven verduurzaamd?
'In 2014 ben ik begonnen met mijn voeding aan te passen. Ik werd flexitariër, maar ik at steeds vaker vegetarisch. Nu ben ik een vegetariër die af en toe vegan eet. Ik besefte na een tijdje dat ik naast mijn eetgewoontes, ook andere gewoontes kon ver- duurzamen. En zo heb ik mijn levensstijl beetje bij beetje aangepast. Voor mij was de tweede stap kledij. In 2017 nam ik me voor om maar één stuk per maand te kopen. Dat hield ik twee jaar vol. Voor mij was dat een grote overwinning, want ik was vroeger een echte shopaholic. Daarna ben ik beginnen letten op de herkomst van mijn kledij. Hoe werden mijn kledingstukken gemaakt? Welke materialen werden gebruikt? Nu koop ik enkel tweedehands, behalve mijn ondergoed en sokken.'
Welke sociale media gebruik je?
'Ik ben begonnen met tips te delen op Instagram. Na één of twee dagen vindt dat platform je posts helaas al niet meer relevant. Daarom heb ik een eigen website gemaakt waarop ik informatie verzamel. Daarna is mijn YouTubekanaal erbij gekomen, maar daar doe ik bij gebrek aan tijd niet zoveel meer mee.
Ik ben halftijds leerkracht en combineer dat met een bijberoep als zelfstandige. Oorspronkelijk ben ik begonnen met copywriting in bijberoep. Ik schreef teksten voor websites en nieuwsbrieven van verschillende bedrijven. Als starter was ik nog niet zo selectief, waardoor ik ook werkte voor bedrijven waar ik niet echt achter stond. Op een bepaald punt heb ik beslist dat niet meer te doen. Ik creëer nu enkel content voor bedrijven en organisaties met normen en waarden die aansluiten bij de mijne. Jezelf beperken tot een niche heeft voor- en nadelen.
De juiste mensen kunnen mij nu makkelijker vinden, maar omdat ik selectief ben, heb ik minder kans op samenwerkingen. Maar ik zou het niet meer anders willen. Voordien voelde het soms als mijn ziel verkopen. Het voelde niet meer juist.'
Waar haal je je ideeën voor je filmpjes?
'Ik haal veel inspiratie uit de pop culture, wat eigenlijk totaal geen duurzame cultuur is. Dat contrast maakt het voor mij net interessant: de combinatie van poppy deuntjes of iconische filmscènes met een duurzame boodschap erbij. Ik vind het superleuk als mensen zeggen dat mijn liedjes in hun hoofd blijven hangen en dat ze mijn tekst in plaats van de originele tekst meezingen. Ik had daar op voorhand eigenlijk niet over nagedacht.'
Duurzaamheid is een zwaar onderwerp. Ik merk dat mensen zich wel willen informeren, maar wie heeft er zin om constant gebombardeerd te worden met slecht nieuws? Het is niet de bedoeling dat we de moed gaan verliezen, hé. Ik denk dat ik een goede tussenweg kan bieden tussen informeren en entertainen.'
Hoe komt het dat je die filmpjes zo goed kan maken?
'Zelfstudie. Ik ben vroeger altijd bezig geweest met foto's bewerken in Photoshop. Al prutsend heb ik mezelf dat aangeleerd. Omdat op sociale media meer en meer met video gewerkt wordt, wou ik dat ook wel eens proberen. Elke keer ik een filmpje maak, leer ik wel iets bij. Ik heb thuis een green screen, zodat ik makkelijk de achtergrond van mijn beelden kan be- werken. Ik heb mezelf bijvoorbeeld in een scène van Pretty Woman gemonteerd. Sommigen dachten dat ik frame per frame Julia Roberts uit de film had gewist. In realiteit profiteerde ik van het feit dat films in liggend formaat worden opgenomen, terwijl Instagram werkt met staande beelden. Ik monteerde me- zelf naast de actrice en knipte haar daarna uit het beeld. Ik vind het allemaal heel leuk om te doen. Soms komt het idee vanuit een film of lied. Soms vertrek ik van een onderwerp en ga ik daarna op zoek naar passende muziek of beelden.'
Wat wens je Supergoods naar aanleiding van hun tienjarige bestaan?
'Ik denk dat zij voor grote uitdagingen staan, met de energie- en grondstoffencrisis. Supergoods heeft momenteel een gevarieerd aanbod van duurdere en meer betaalbare stuks. Ik wens hen toe dat ze dat mooie aanbod kunnen behouden en dat ze de prijs toegankelijk kunnen houden voor iedereen.'
3 tips van Eveline om te verduurzamen:
- consuMINDERen
- niet alles ineens willen verduurzamen - de juiste accounts volgen op sociale media: @laurafromthedesert @sustainabrittly
@sustainablefamily
@veerle.colle
@mixua.eco
@sustainablykindliving
@climatediva
(en de accounts die stimuleren tot over- consumptie, ontvolgen)
Boekentips:
- Eating Animals, Jonathan Safran Foer - Material Matters, Thomas Rau
- Stuffocation, James Wallman
- The Story Of Stuff, Annie Leonard
Documentaires:
- Demain
- The True Cost
- Don't look up (film)