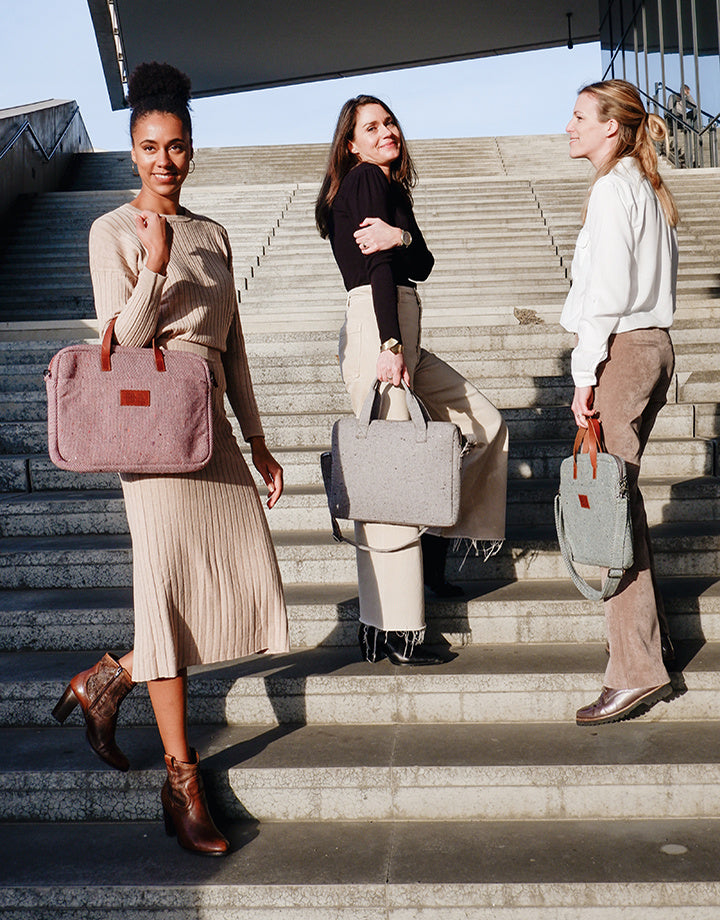 Recycleer & steun: Supergoods werkt samen met Be The Fibre voor meer circulaire mode
Vanaf nu werkt Supergoods samen met het Belgische merk Be The Fibre om jullie garderobes meer circulair te maken! Be The Fibre is een initiatief van Wereld Missie Hulp, met als doel stoffen van ondraagbaar textiel te recycleren. Die materialen zamelt WMH in via kledingcontainers, maar ook door samen te werken met partners zoals Supergoods. Nog bruikbare kleding gaat naar tweedehandswinkels in België, de rest wordt maximaal gerecycleerd. Vanaf nu kan je dus je oude kleren recycleren in de Supergoods winkels, samen met Be The Fibre - als dat geen goed nieuws is!
Het belang van recyclage
Met de deur in huis: maar liefst 73% van het kledingafval wordt tegenwoordig verbrand of eindigt op stortplaatsen in bijvoorbeeld Afrika. Nog niet lang geleden toonde Factcheckers een reportage over het dumpen van textiel in Afrika, wat soms bovendien gepaard gaat met illegale praktijken.
Het helpt daarbij niet dat we ook nog eens meer en meer kleren produceren en kopen. 20 jaar geleden kochten we jaarlijks gemiddelde 7 kg kleding gekocht, en nu is dit 13 kg per jaar. Dat zorgt voor meer textielafval en meer milieuproblemen, niet alleen bij ons maar ook in productielanden en in gebieden waar de textielen naartoe worden gestuurd. 
Elk kledingstuk dat we minder kopen, beter verzorgen, op tijd repareren, langer dragen, gewoon doneren aan een goed doel of op het einde recycleren, kan een verschil maken in het verkleinen van de afvalstroom. Daarom vinden we het ook belangrijk dat we een optie aanbieden voor de kleding die verkocht wordt bij ons.
Helaas is het meestal nog niet mogelijk  om 100% circulair te gaan om technische redenen, ook al bieden onze merken al diverse veel collecties aan die deels van gerecycleerde garens zijn gemaakt. Idealiter is elk merk verantwoordelijk voor zijn eigen producten na gebruik. Zo recycleren HNST, Mud Jeans en Swedish Stockings hun producten tot nieuwe items, of hergebruiken ze de materialen voor iets anders. 
Voor kleding van merken die zelf nog geen circulaire collecties hebben, is samenwerking met Be The Fibre een welkom stap tot circulariteit. Zo weet je ook dat er nog een optie is voor een kledingstuk dat niet meer gedragen, verkocht of gedoneerd kan worden.
Be The Fibre
Bij Supergoods willen we je helpen om de kleding die je niet meer gebruikt of kan gebruiken goed terecht te laten komen. Daarom kan je vanaf nu kleding die je niet meer gebruikt komen doneren aan Wereld Missie Hulp en hun merk Be The Fibre in de Supergoods-winkels. Het stuurt ingezamelde kleding dan ook al lang niet meer zomaar naar het Zuiden. Nog bruikbare kleding gaat naar tweedehandswinkels bij ons, en kleding die niet meer bruikbaar is, wordt via het Nederlandse recyclagebedrijf Wolkat in Marokko handmatig gesorteerd en zo herwerkt tot nieuwe stoffen én producten.
Momenteel kan je al verschillende accessoires zoals toiletzakken, weekendtassen en rugzakken vinden in de collectie van Be The Fibre. In de nabije toekomst verwachten we nog heel wat andere producten, waaronder ook kleding, onder de vlag van dit merk. De opbrengst van de producten gaat naar ontwikkelingshulp. Jouw donatie van kleding voor recyclage of jouw aankoop van Be The Fibre kan dus een echt verschil maken.
Hoge recyclagegraad
Be The Fibre koos voor een samenwerking met  het Nederlandse Wolkat om hun collectie te produceren. Dit Nederlandse bedrijf probeert het proces van het inzamelen van textiel tot het eindproduct voortdurend verder te innoveren. 
Wolkat heeft een eigen fabriek in Tangier, Marokko, waar alle operaties zo duurzaam mogelijk onder een dak gebeuren. Medewerkers van Wolkat sorteren ingezamelde textiel handmatig uit. Zo kan er het meest efficiënt gekozen worden waar elk kledingstuk naartoe gaat. Op een jaar tijd verwerkt Wolkat 25 miljoen kilo textiel tot nieuwe stoffen en items, of als het echt niet meer anders kan materialen zoals isolatie of andere materialen voor industrieel gebruik. Op die manier wordt tot maar liefst 96% van het ingezamelde textiel gerecycleerd.


Zo duurzaam mogelijk
Wist je dat gerecycleerde stoffen op een heel milieuvriendelijke manier kunnen gemaakt geworden? Dat bewijzen zeker Be The Fibre en Wolkat. Minder water, minder chemicaliën en minder CO2 zijn allemaal pluspunten van het assortiment als je kiest voor een accessoire van Be The Fibre.

Zo is er voor de productie van 1 kg gerecycleerd textiel slechts 10 ml water nodig Vergelijk dat eens met typische katoenteelt: voor een kilo katoen gaat het waterverbruik al snel naar de 10.000 liter. Alleen al om het watergebruik te verminderen, moeten we drastisch meer kleding te recycleren.
Verder worden er in de Wolkat-fabriek geen kleurstoffen of pesticiden gebruikt. Men sorteert er de stoffen eenvoudigweg op materiaal én kleur. Dat is niet alleen beter voor het milieu, maar ook voor flora en fauna, werknemers en ook consumenten. Veel duurzamer kan je textielen niet produceren. 
Het feit dat de verwerking van het textiel en de productie van nieuwe items in een fabriek aan de rand van Europa gebeurt, is alvast een grote stap vooruit ten opzichte van de industrie die meestal eerder richting China en aanverwanten gaat. Qua CO2-gebruik is het transport van en naar Marokko ook het enige wat daar kan gemeld worden. Wat het inzamelen betreft is het trouwens ook zo dat een deel van het textiel dat bij Wolkat beland in Marokko zelf wordt ingezameld.
De keuze voor Wolkat ging bovendien ook niet alleen maar om ecologische redenen. Wat betreft werkomstandigheden wil Wolkat een voorbeeld zijn, iets wat voor een bedrijf als Wereld Missie Hulp, de organisatie achter Be The Fibre, uiteraard van essentieel belang is. Nog niet overtuigd? Be The Fibre draagt het GRS label, dat staat voor Global Recycle Standard. Dit label garandeert een focus op transparantie op vlak van werkomstandigheden maar ook voor gerecycleerde materialen in hun productie bij nieuwe producten.
Hoe werkt het inzamelen bij Supergoods?
Tot nu toe zamelden we bij Supergoods vooral jeans en nylonkousen in. Jeans zullen we blijven doneren aan circulaire denimmerken. Maar je kan dus vanaf nu ook met alle andere oude kleding en schoenen terecht:
- In de Supergoods winkels te Gent, Mechelen of Antwerpen, of een ander lokaal inzamelpunt.
- In een van de vele rode containers van Wereld Missie Hulp.
Wel geldt de regel dat je bij Supergoods maar één zak per keer kan doneren, met voor alle duidelijkheid enkel en alleen kleding en schoenen. Grotere donaties kan je blijven brengen naar de rode containers van Wereld Missie Hulp. 
Hoe dan ook, tot binnenkort!