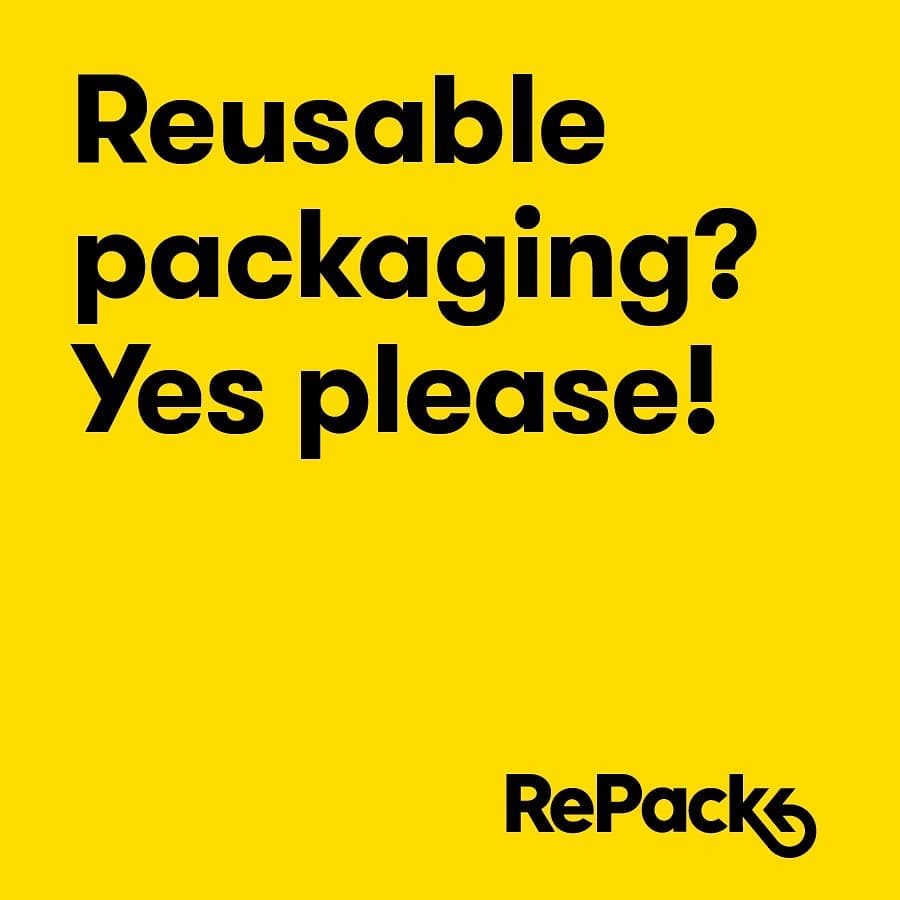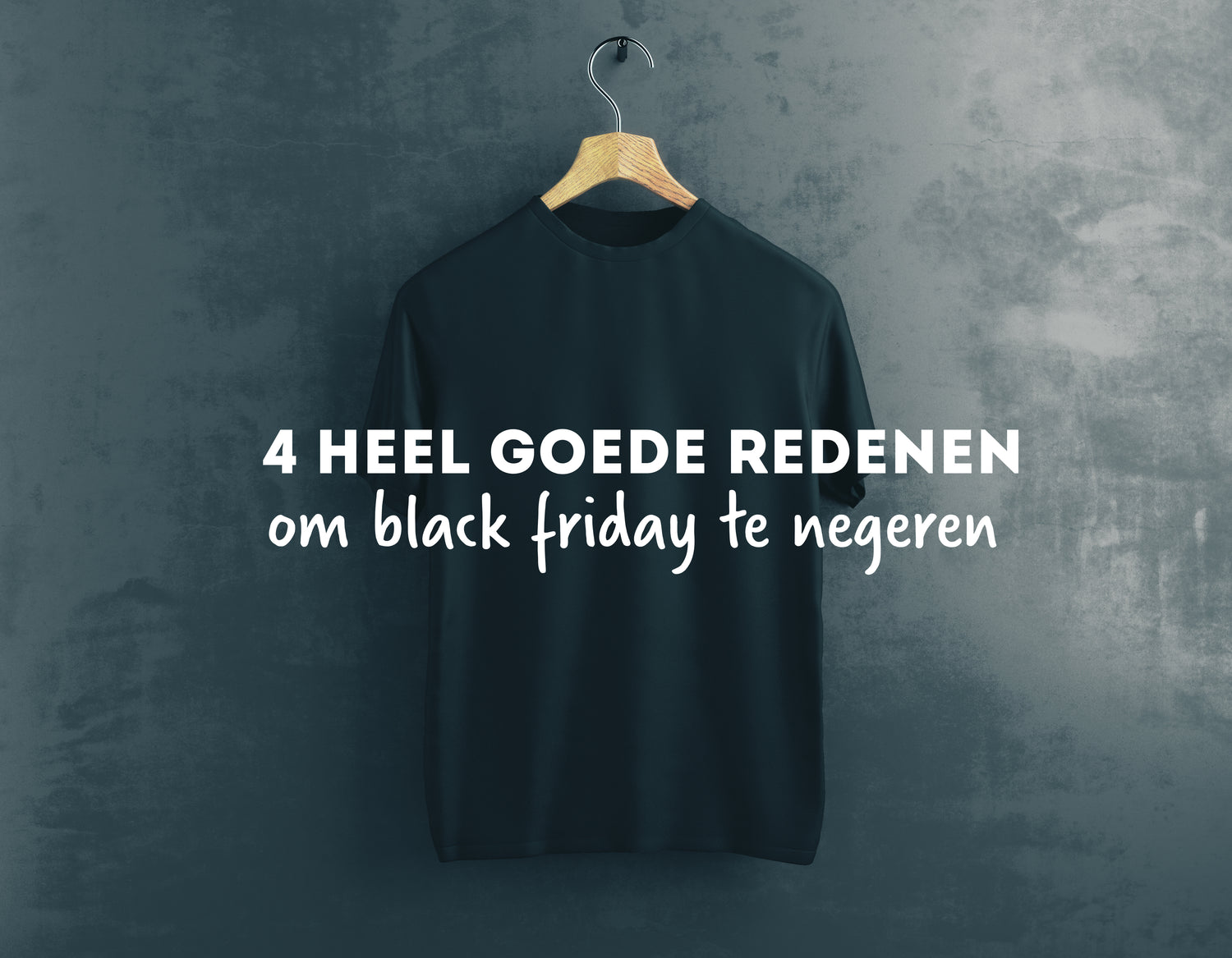 4 heel goede redenen om Black Friday te negeren
Je kan er nu al niet meer om heen wanneer je de reclames bekijkt. Deze week is het weer Black Friday: dat grote, uit de Verenigde Staten overgewaaide consumptiefestival, bekend om de hoge kortingen in de winkels en webshops. Afprijzingen van 50 en 70% zijn helemaal niet uitzonderlijk. Wij geven tijdens Black Friday al jaren een 'niet te missen' korting van 0%. En daar gaan we ook dit jaar mee door. Waarom? Er zijn zoveel redenen. We pikten er enkele van de belangrijkste voor je uit:


1. Fast fashion giganten produceren te veel. Het is leuk om in de winkels elke 2 weken een nieuwe collectie te ontdekken, maar of het duurzaam is? Fast fashion is een business model dat onder meer draait op overproductie en overaanbod, zodat het dumpen van kleding tegen massieve kortingen er gewoon bij hoort. Maar dat lost het overproductieprobleem niet op. Er blijven veel kleren onverkocht en die worden vaak verbrand of belanden in bijvoorbeeld Afrika, waar men al jaren kampt met gigantische hoeveelheden textielafval. Dat - en lang niet dat alleen -maakt Black Friday een symptoom van een vervelende ziekte, genaamd fast fashion.
"Black Friday is een symptoom van een vervelende ziekte, genaamd fast fashion."
2. We hebben betere kwaliteit nodig. Even problematisch is het feit dat de fast fashion kledij van slechte kwaliteit is. Fast fashion is eigenlijk gewoon wegwerpmode. Kleding die wel verkocht geraakt, komt ook al snel in afvalstromen terecht. De tweedehandsmarkt kan hiervaan meespreken, onder andere in Ghana: de meeste gedoneerde kledij is gewoon niet meer draagbaar. De kwaliteit is de laatste jaren slechter geworden, terwijl zowat alle modehuizen de mond vol hebben van duurzaamheid. Bekijk op VRTNU zeker eens de reportage van Vranckx van zaterdag 20 november over de textielafvalramp in Ghana.
"Niet te missen Black Friday voorwaarden bij Supergoods: de volle 0% korting!"
3. Spotgoedkope kleding = oneerlijke lonen in de mode-industrie. Onze hele prijsperceptie van kleding is de laatste decennia misvormd door de fast fashion ketens. Het business model van overaanbod en ondermaatse kwaliteit gaat gepaard met spotprijzen, zodat we snel denken dat bijvoorbeeld fair fashion duur is. Het is helaas zeker niet zo dat het bij (iets) duurdere kleding vast staat dat de textielwerkers goed betaald werden. Maar anderzijds is spotgoedkope kleding wel een goede indicator voor on-eerlijke lonen. Wat je aan fast fashion minder betaalt, is onder meer de textielwerkers tekort gedaan. Daar betalen zij de figuurlijke rekening voor. Aan de kortingen kan je bovendien veel afleiden. Of dacht je dat er tijdens Black Friday met verlies wordt verkocht?
Bovendien zijn hier raakvlakken met onder meer greenwashing: goedkope kleding gemaakt met 20% gerecycleerde materialen (bv. polyester) worden als duurzaam verkocht. Dat doen zowat alle fast fashion merken. Op het vlak van ecologie is stelt dat al weinig voor, op het vlak van eerlijke productie wordt wijselijk gezwegen. En dan gaan we ook even niet in op de relatie tussen fast fashion en shopverslaving. 
"Wat je aan fast fashion minder betaalt, is onder meer de textielwerkers tekort gedaan."
4. Door te produceren in lageloonlanden, leggen we de sociale en de milieulast bij anderen. En dat is bewust gedaan: doordat de sociale bescherming en de milieunormen er veel lager liggen, drukken fast fashionmerken op die manier de prijs, ook al wordt daar in de productielanden wel een figuurlijke prijs voor betaald. Waarom produceren zulke merken niet gewoon in Europa of zelfs in eigen land? Okee, dat is duurder dan de doorsnee wegwerpmode en dat maakt lokale productie al snel een luxeproduct. Toch geloven we dat door dichter bij huis te produceren, de sociale en ecologische gevolgen van de mode drastisch omlaag kunnen worden gehaald. Tenminste, als we dan ook hogere kwaliteit kiezen en wat minder kopen. 
"Tijdens Black Friday vragen we elke klant of die samen met Supergoods €2,50 wil doneren aan River CleanUp. Zo doneren we dus samen telkens 5€!"
Dus onder meer daarom geen Black Friday bij onze winkels of webshops. We hebben wel een reward systeem voor de trouwe klanten, de Good Vibes Club, waarbij je voor elke aankoop punten krijgt, en bijvoorbeeld ook als je je jeans of nylons komt recycleren bij ons. Je kan de punten het hele jaar door omzetten in  kortingen, of - nog veel leuker - er een donatie mee doen aan enkele door Supergoods gecureerde goede doelen: River CleanUp in België, The Cup of The World Bicycle Relief. 
Tijdens het Black Friday Weekend doen we er nog een schepje bovenop: We vragen elke klant om samen €5 te doneren aan River CleanUp. We delen de rekening: de klant en Supergoods betalen elk €2,5 om zo deze grootschalige, non-stop schoonmaakoperatie onder meer in de Waalse overstromingsgebieden te steunen en zo een tegengewicht te bieden voor het overconsumptiefestival genaamd Black Friday.