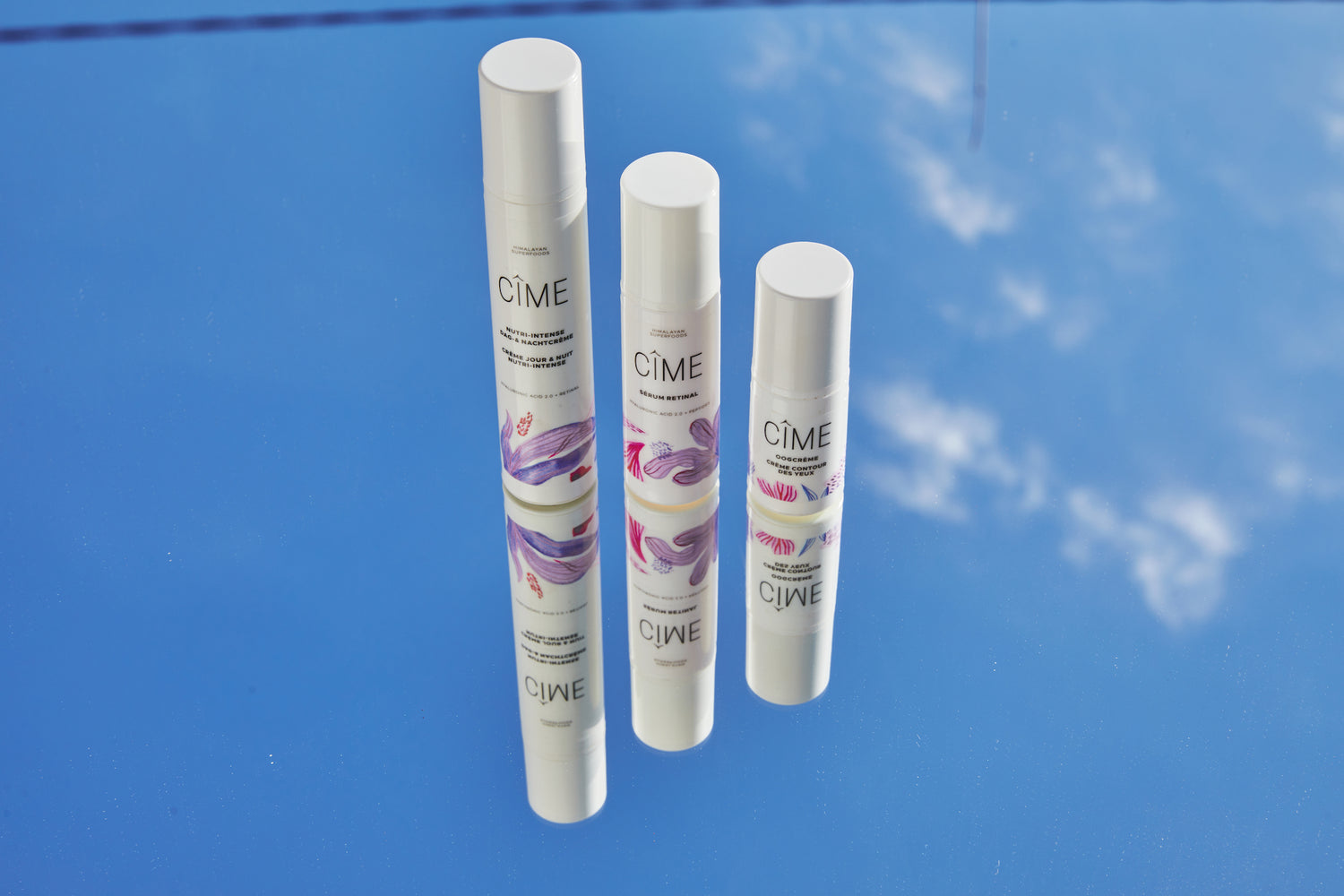 Weet wat je smeert: CÎME Skincare en de nieuwe Honestly Aging lijn
Of ik een blogpost kon schrijven over de nieuwe producten van CÎME Skincare? Met plezier. Of ik bij wijze van research een skincare-avond in Gent wou bijwonen? Heel graag zelfs!
Tekst: Cleo Dursin, foto's: Studio Nunu

Gastvrouw Olga verwelkomde ons met een heerlijk drankje en gezond hapje. De tijd vloog wanneer ambassadrice Nathalie vertelde over het ontstaan van CÎME: hoe Anke op trektocht met haar vader Walter in de Himalaya geïnspireerd werd door de bergplanten en hun extracten en oliën om een natuurlijke huidverzorgingslijn te ontwikkelen. Eens thuisgekomen toetste ze dat idee bij haar vriendin Isabel. Die was door haar gevoelige huid al een tijdje op zoek naar passende huidproducten. Isabel en Anke – op dat moment beiden advocaat – besloten een carrièreswitch te maken en vroegen Ankes vader Walter, die al meer dan 30 jaar actief was in de sector van biologische plantenextracten en oliën, om hen te helpen met de ontwikkeling van hun producten. Samen zijn ze de trotse
oprichters van CÎME.

Daarna volgde een productvoorstelling vol verrassende weetjes. Nathalie had ook een klein kwisje voor ons opgesteld met als prijs een Himalaya 29°N-81°E universele eerstehulpbalsem. Daarvan wist ze ons te vertellen dat ie ook goed is om je voeten mee te verzorgen. Ondertussen heb ik dat uitgetest en het klopt inderdaad. Wonderzalfje! Multi-inzetbaar. Een echte musthave voor in je
reistas.

Eén ding vroeg ik me nog af: waarom werken met grondstoffen die van de andere kant van de wereld moeten komen? Dat heeft alles te maken met de kwaliteit van de grondstoffen. De duindoornbessen uit de Himalaya zijn bijvoorbeeld zeven tot acht keer krachtiger dan die van bij ons. Voor het transport zijn duurzame oplossingen gevonden, zoals vliegtuigen die leeg terugvliegen na voedselleveringen en de daken van openbare bussen. En de zeepnoten die dienen als basis voor de shampoo en douchegel worden in poedervorm getransporteerd zodat ze minder zwaar zijn.

Nieuwe lijn: Honestly Aging

Die avond mocht ik in avant-première de nieuwe lijn van CÎME ontdekken. Die bestaat uit een oogcrème, serum en dag- en nachtcrème. De doosjes van de producten zien er al prachtig uit: met paarsrode zeeplantjes doen ze dromen van stranden. Doe je het doosje open, dan staat er op het flapje 'You are honestly beautiful'. I love it. Je bent al mooi zoals je bent, maar je bent ook goed bezig
omdat je jezelf verzorgt met duurzame producten. De doosjes zijn niet alleen mooi, ook een schat aan informatie. Meestal gooi ik de doosjes van nieuwe producten meteen weg, maar bij deze krijg ik dat niet over mijn hart.

De nieuwe lijn heet Honestly Aging. Voor de rijpere huid dus. Mijn huid is rijper, maar blijkbaar nog niet rijp genoeg voor de drie nieuwe producten. Hoe ik dat weet? Ik leerde het van Nathalie. En ik testte het door mijn gezicht verticaal in twee te delen en op de ene kant de dagcrème voor de rijpere huid te smeren en aan de andere kant een andere dagcrème. Trekt de crème niet goed in? Plakt ie nog een beetje? Dan wil dat zeggen dat je die nog niet nodig heb. Hoera! Maar de oogcrème die fijne lijntjes, donkere kringen en wallen bestrijdt, kan ik wel al gebruiken.


In alle drie de producten zit retinal. Dat is een volledig natuurlijk alternatief voor retinol met hetzelfde huidvernieuwende effect, maar zonder het risico op reacties en huidgevoeligheid. Die vorm van vitamine A verhoogt de elasticiteit van de huid en vermindert rimpels en fijne lijntjes. Hyaluronzuur kan je ook in de drie producten terugvinden. Hyaluronzuur is in staat om 1000 keer zijn eigen gewicht aan water vast te houden. Het verhoogt de elasticiteit en hydratatie van de huid en geeft het een jeugdige uitstraling. En geef toe, wie wil dat nu niet?

Het nieuwe serum zit ook vol vitamine C dankzij de duindoorn die de vorming van nieuwe cellen en de stofwisselingsprocessen van de huid stimuleert. De oogcontourcrème bevat cafeïne. Cafeïne bestrijdt wallen en donkere kringen. Het vermindert het vasthouden van water onder de ogen, waardoor wallen effectief verminderen. Cafeïne stimuleert ook de microcirculatie van je oogcontour, waardoor de bloedvaten vernauwen en de paarsachtige pigmentatie van donkere kringen vervaagt.

In de dag- en nachtcrème zit Edelweiss, die zorgt voor een plantaardige zonbescherming. Edelweiss staat bekend om zijn hoge concentratie aan antioxidanten en helpt daarom de huid te beschermen tegen uv-straling en vervuiling.

Nog even kort op een rijtje in welke volgorde je je huid best verzorgt:
1. Reinigen met reinigingsolie
2. Tonifiëren met lotion
3. Serum aanbrengen
4. Oogcrème aanbrengen: zachtjes met de ringvingers inkloppen
5. Dag- en nachtcrème aanbrengen
6. Klaar!

Die stappen volg je best 's morgens en 's avonds.

Toegegeven: als ik het al doe, dan doe ik het vooral 's morgens met frisse moed. 's Avonds vind ik het nogal veel gedoe. Dus daar is nog werk aan de winkel. Een extra stimulans is wel dat de producten allemaal heerlijk natuurlijk ruiken. Dus als je je ermee verzorgt, ga je heerlijk geurend de deur uit of je bed in.

Zelf eens de (nieuwe) producten van CÎME testen en tussendoor extra info meepikken? Dit najaar organiseren we weer workshops in 
Supergoods Antwerpen, Gent of Mechelen. Blijf op de hoogte via de nieuwsbrief! 
Of nog eenvoudiger: kom gewoon langs in de winkel, probeer de producten en laat je adviseren!