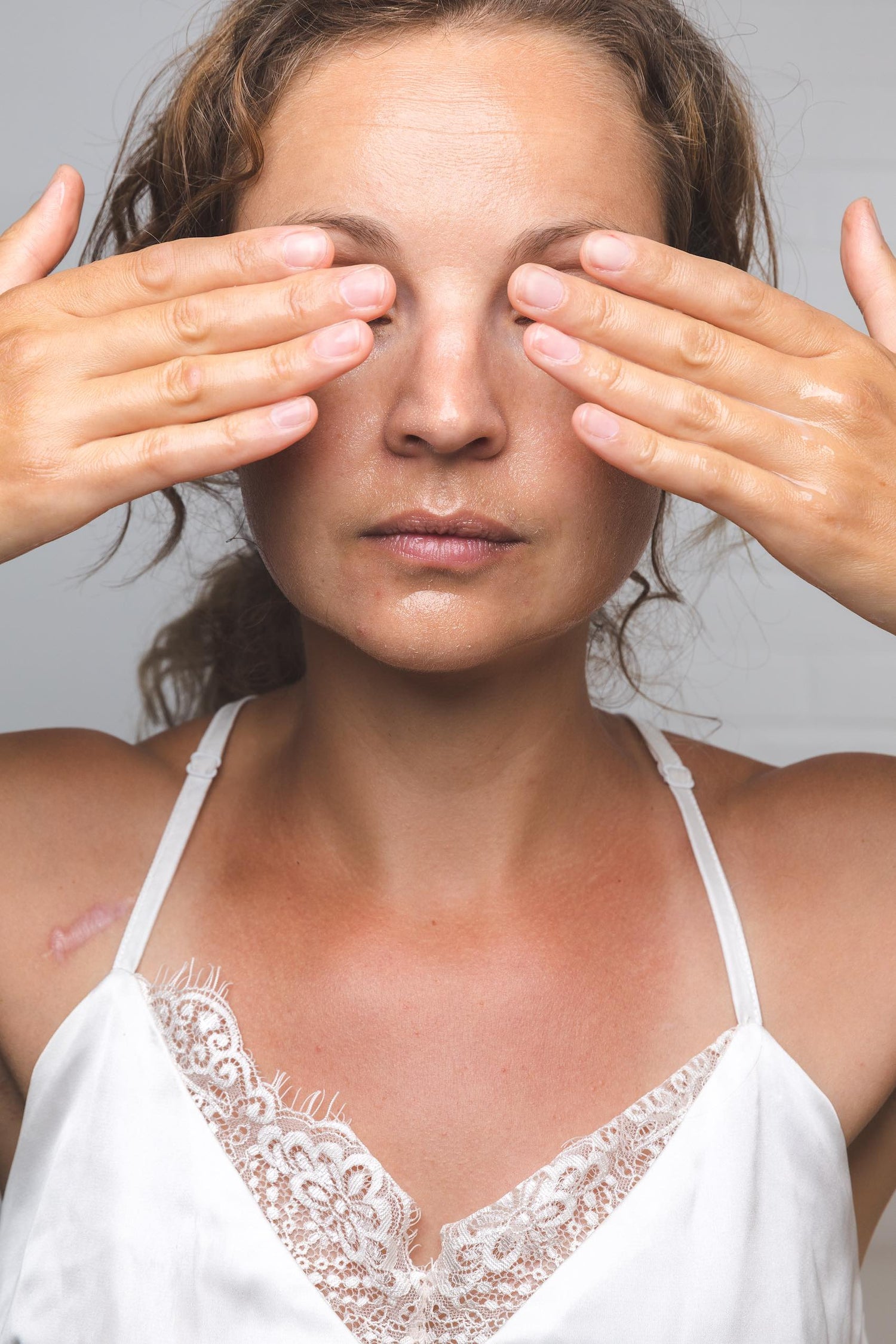 Hormoonverstorende stoffen in cosmetica - say what?!
Hormoonverstorende stoffen hebben recent nog eens de media gehaald naar aanleiding van een onderzoek van Kom op tegen Kanker, de Stichting Tegengif uit Nederland en de Deense consumentenbond waarin wordt gewaarschuwd voor hormoonverstorende stoffen in parfums en cosmetica. Tijd voor een blogpost dus, dit keer in samenwerking met CÎME skincare.
Bij CÎME proberen ze op een positieve manier te communiceren en uit te gaan van de kracht van onze eigen ingrediënten, zonder andere producten af te breken. Toch vinden ze het belangrijk om jullie over dit (niet zo positieve) onderwerp te informeren, zodat iedereen zijn eigen geïnformeerde keuze kan maken. Dus wat zijn hormoonverstorende stoffen, wat doen ze in het lichaam en welke stoffen kan je best vermijden?
Wat zijn hormoonverstorende stoffen en wat doen ze in het lichaam?
Een hormoonverstorende stof is een stof van buitenaf die de hormoonbalans in je lichaam verstoort. Het kan je lichaamseigen hormonen op verschillende manieren uit balans halen: het kan lichaamseigen hormonen imiteren, lichaamseigen hormonen blokkeren of zorgen voor een interactie met de productie, het transport of het metabolisme van de hormonen. Dit kan op zijn beurt gevolgen hebben voor je eigen gezondheid of die van je baby. Zo kan het onder meer leiden tot diabetes, obesitas, gedrags- en concentratieproblemen, verminderde vruchtbaarheid en borstkanker.
Hormoonverstorende stoffen kunnen worden overgedragen van de moeder naar de foetus via de placenta en naar de pasgeborene via de moedermelk. Ook jonge kinderen zijn een kwetsbare groep aangezien ze in volle ontwikkeling zijn.
Dagelijkse blootstelling  
Hoeveel verzorgingsproducten gebruik jij gemiddeld per dag?
Uit het onderzoek van Kom op tegen Kanker blijkt dat de gemiddelde vrouw 12 tot 16 cosmetische producten per dag gebruikt. Hierdoor word je elke dag blootgesteld aan meer dan 160 chemische stoffen, waaronder hormoonverstorende stoffen.
Hormoonverstorende stoffen komen meestal in lage concentraties voor in verzorgingsproducten. Dit heeft in principe slechts een beperkt effect op je normale hormoonbalans. Dit is dan ook het excuus van veel fabrikanten: "in het product dat ik produceer zit maar een kleine concentratie hormoonverstoorders". Maar het gevaar zit hem in het 'cocktail effect'.
Say what? Het is de langdurige blootstelling en het gebruik van meerdere cosmetische producten samen die een cruciale rol spelen. Dit wordt het 'cocktail effect' genoemd, het is de gelijktijdige blootstelling van vele stoffen aan zeer lage concentraties, die individueel weinig of geen effect hebben maar samen wel tot een schadelijk effect kunnen leiden. 
Welke stoffen kan ik best vermijden? 
Vermijd verzorgingsproducten met parabenen en phenoxyethanol (typische bewaarmiddelen in o.a. verzorgingsproducten), ftalaten (weekmakers), triclosan, benzyl salicylaat, butylhydroxytolueen (BHT) en butylphenyl methylpropional, ethylhexyl methoxycinnamate en synthetische kleurstoffen en parfums. Je kan dit nakijken door het etiket goed te lezen en de ingrediëntenlijst te controleren op schadelijke stoffen.
Het probleem met synthetische parfums is echter dat de fabrikant de ingrediënten hiervan niet moet vermelden in de ingrediëntenlijst (omwille van zijn bedrijfsgeheim). Dit is een cocktail van ingrediënten waarvan je als consument, maar ook als scanner app zoals bijvoorbeeld Yuka niet kan weten wat er in zit.
Zeker zijn? Ga voor een bio label!   
Het lezen en begrijpen van een ingrediëntenlijst is niet eenvoudig, maar een betrouwbaar bio label is dat wel. Zo zijn de CÎME producten allemaal voorzien van een Ecocert label, volgens de strenge Cosmos norm. Dit label legt strenge criteria op waaraan je product moet voldoen. Het garandeert milieuvriendelijke productie- en verwerkingsprocessen (volledig biologische, zonder pesticiden) waarbij ook de menselijke gezondheid wordt gerespecteerd. Ook wordt de afwezigheid van hormoonverstorende ingrediënten (zoals parabenen, phenoxyethanol, synthetisch parfums en kleurstoffen) is 100% verzekerd. Dus zie je op een product een Ecocert label - of een ander betrouwbaar biolabel - dan kan je 100% zeker zijn dat het volledig vrij is van hormoonverstorende stoffen.
Wees wel op je hoede, worden als 'bio' en 'natuurlijk' zijn niet wettelijk beschermd. Enkel bij een biolabel van een onafhankelijk orgaan zoals Ecocert, BDIH, Natrue, mag je er vanuit gaan dat alles grondig is gecheckt. Nog even een fabeltje uit de wereld helpen: een biocertificaat als dat van Ecocert is helemaal niet duur. Je moet als fabrikant alleen bereid zijn om je aan héél strenge vereisten en controles te onderwerpen.
Nog enkele concrete tips:   
Probeer je dagelijkse blootstelling aan parfum te verminderen. Als je al de stoffen van je persoonlijke verzorgings- en schoonmaakproducten bij elkaar optelt, geeft dit een cocktail aan chemische stoffen. Daarom is het zinvol te proberen je blootstelling aan geurstoffen tot een minimum te beperken. Of geef de voorkeur aan parfumvrije verzorgingsproducten, gebruik enkel parfum voor een speciale gelegenheid en verstuif het op je kleding in plaats van op je huid.
Zoek naar verzorgingsproducten met een officieel biolabel, stoffen met hormoonverstorende eigenschappen zijn hier niet toegelaten.
Nieuwe kledij, lakens en andere producten kan je best eerst wassen voordat je ze gebruikt. Ook nieuw keukengerief kan je best eerst afwassen.
Was je groenten en fruit goed, zo kan je de eventueel gebruikte pesticiden verwijderen.
Let's be #honestlybeautiful!
Wil je nog meer weten, luister dan onze Instalivelive met CÎME & Isabel hier. 
Vergeet niet dat we 10-19 juni een promo hebben op de CÎME producten, je krijgt 15% korting vanaf €60 aankoop van de CîME gamma.