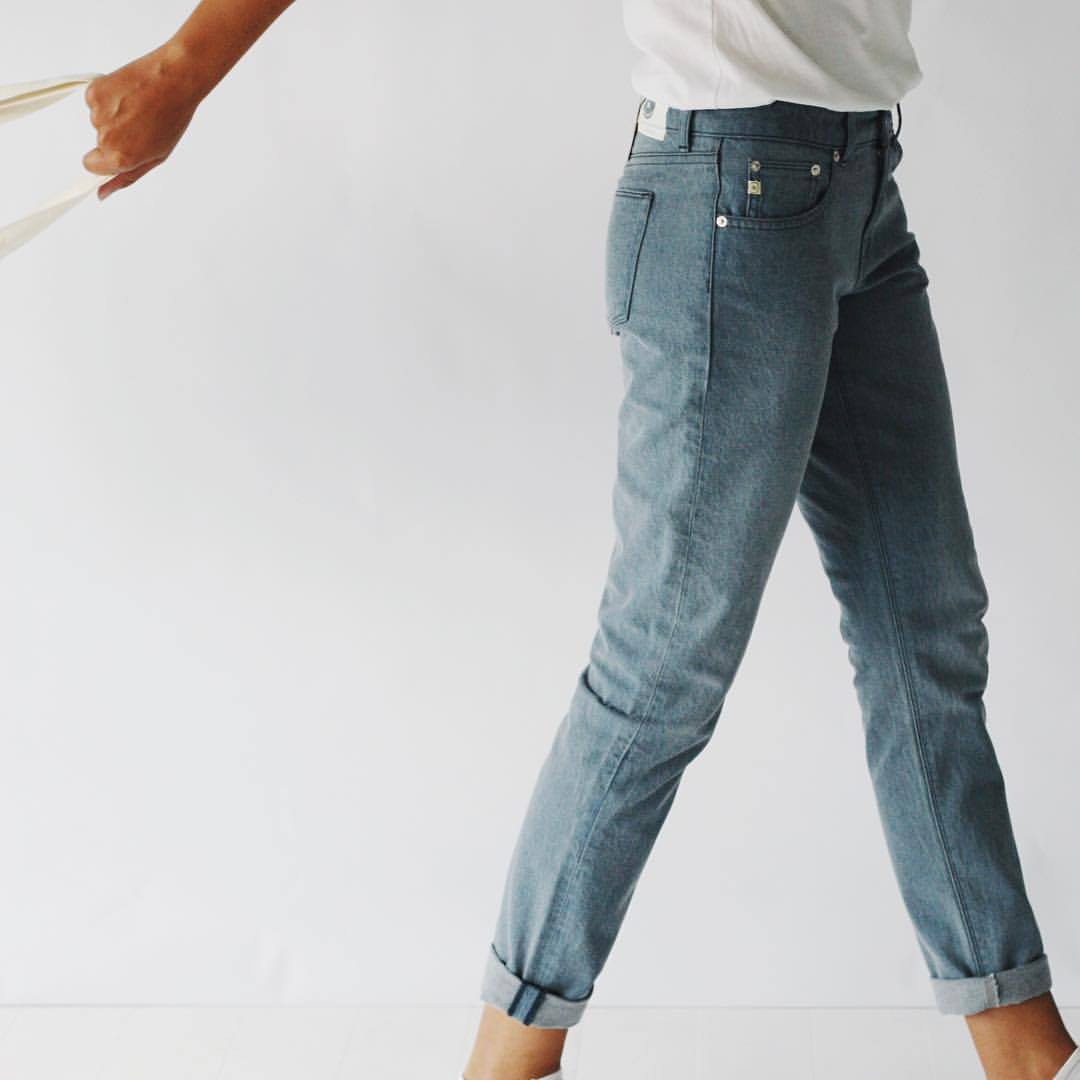 Mud Jeans - Een groot denimverhaal met kleine milieuafdruk
Op 23 jarige leeftijd verhuisde Bert van Son naar China voor een job in de textielindustrie. Daar zag hij de gevolgen van fast fashion op fabrieksarbeiders. De druk om zo snel mogelijk zo veel mogelijk te produceren leidt tot gezondheids- en veiligheidsrisico's. Hij wist dat er een alternatieve manier moest zijn. Nu wil zijn nederlandse merk Mud Jeans de modewereld echt veranderen, door elke stap in de productieketen zo milieuvriendelijk mogelijk te maken. 
Bert van Son met zijn collega's

Een jeansbroek begint op het katoenveld. Het is het doel van Mud Jeans om katoen te gebruiken met een minimale impact op het milieu, en met een leefbaar loon voor de boeren. Het uiteindelijk streeft Mud Jeans ernaar enkel gerecycleerd katoen te gebruiken. Momenteel wordt ook biologisch katoen en Better Cotton Initiative gecertificeerd katoen gebruikt.
Conventioneel katoen wordt om te beginnen geteeld met genetisch gemodificeerd katoenzaad, wat niet alleen veel duurder is voor de boeren om in te kopen, maar het maakt zijn belofte van ziektevrij te zijn bovendien helemaal niet waar, zodat de zadenfabrikant ook nog eens met zijn pesticiden langs de kassa kan passeren. De boeren werken zich zo steeds dieper in de schulden, wat in combinatie met het werk met erg ongezonde chemicaliën leidt tot ware drama's. De milieu-impact van conventioneel katoen beperkt zich niet tot de gebruikte zware chemicaliën. De waterafdruk van gewoon katoen wordt verder verhoogd door het gebruik van irrigatie. Biologisch katoen gebruikt geen genetisch gemodificeerde (GM) zaden, wordt geteeld met zo weinig mogelijk chemicaliën en 70 tot 80% van de biologische katoenproductie gebeurt met regenwater in plaats van irrigatie.
Gerecycleerd katoen is uiteraard nog interessanter: het bespaart doorgaans 40% van het water, maakt geen gebruik van pesticiden of insecticiden en voorkomt het storten van afval door oude kledingstukken.
Recycleren van denim bij Mud Jeans 
Het is geweten dat veel van de wassingen van jeans erg schadelijk zijn voor werknemers en milieu. Dit doet Mud Jeans ook anders. Het conventionele gebruik van schuurpapier en potassium permanganate wordt vervangen door de broek te behandelen met laserstralen. Hiermee elimineert Mud zwaar en ongezond handwerk en het gebruik van schadelijke stoffen. Ook blijft de broek sterker omdat de draden minder beschadigd worden.
Een andere manier om een gewassen effect te krijgen is het gebruik van ozon (O3). De ozon wordt bovendien daarna terug omgezet in zuurstof (O2). Ter vergelijking: Chemisch bleken in combinatie met stonewashing betekent zes tot zeven keer wassen en spoelen; afwerking met ozon vereist geen spoeling, tot maximaal drie spoelingen. Ozon finishing verlaagt het energieverbruik doordat er minder water hoeft te worden verwarmd (nodig voor spoelen). Ook overig afval zoals slib van puimsteen (gebruikt bij stonewashing) vermindert hiermee. Ozon bleekt sneller dan chemicaliën en stonewashing. Bij optimale concentraties, bleekt ozon de denim in 15 minuten tot het niveau dat met traditionele methodes 30 tot 45 minuten duurt.
Er zijn verschillende rapporten gepubliceerd waarin het waterverbruik per jeans in conventionele productie is gemeten; over het algemeen schommelen de cijfers tussen de 7.000 en 10.000 liter per jeansbroek. In termen van broeikasgassen genereert een jeansbroek 23,5 kg CO2. Samen met BlueDot heeft Mud Jeans een studie gedaan waarin ze hun productieproces van katoen tot jeans hebben geanalyseerd. De resultaten zijn zeer bemoedigend.
Mud Jeans vs. gemiddelde jeansbroek
Eindresultaat

Als je Mud Jeans koopt weet je dat een leefbaar loon is betaald en dat de werkvloeren veilig zijn. MUD Jeans koopt zijn goederen bewust bij fabrieken die binnen redelijk afstand liggen. Zo zijn ze in staat om regelmatig de fabriek te bezoeken. Bovendien is het belangrijk dat dezelfde mentaliteit en doelen gedeeld worden: transparantie, eerlijke lonen, en goede arbeidsomstandigheden. Mud Jeans is trots deel uit te maken van het Young Designer Programma van Fairwear Foundation.

Mud Jeans is pionier in materiaalrecyclage. Het gebruikt bijvoorbeeld geen leer voor de labels, maar print de logo'sop de broeken, zodat ze broeken gerecycleerd kunnen worden - goed nieuws ook voor alle veganisten. Mud Jeans hergebruikt de stoffen. Versleten jeans worden verzonden naar fabrieken in Spanje of Italië. Daar worden de jeans 'vervezeld' (uit elkaar getrokken tot kleinst mogelijke vorm) en vermengd met nieuw biologisch katoen. Een nieuw gesponnen garen met gerecyclede denim erin is hiermee geboren. Op de breisels (de truien die Mud maakt van gerecycleerde stoffen) naait men enkel knopen die gemaakt uit gerecycleerd katoen. Een extra voordeel bij dit circulaire proces is het scheppen van banen op het gebied van recycling en hergebruik.
Er zijn geen polyester zakken voor de verpakkingen en hangtags zijn gemaakt van gerecycleerd papier. 
De fabriek in actie


Bij Mud Jeans willen ze circulaire economie verder uitbouwen. Daarom is Mud Jeans ook een lease programma gestart. Zo kan je een jeans bestellen die je tegen een maandelijkse prijs least voor een jaar. In principe blijft Mud Jeans dan eigenaar van de broek en als consument betaal je alleen voor de service. Een mooi pilootproject rond het idee dat we meer en meer gaan zien in de mode in de komende jaren. 
De stijl van MUD is erg puur, no nonsense en fris. Geen overdreven wassingen, niet te veel contraststiksels en tijdloze modellen die iedereen goed staan… de perfecte duurzame basic in je kleerkast. Een plus is ook de prijs: elke broek kost €98, dit is een betaalbare prijs als je bedenkt dat er op een eerlijke manier is geproduceerd en met een kleinere milieuafdruk. Je vind de collectie hier.
1 comment