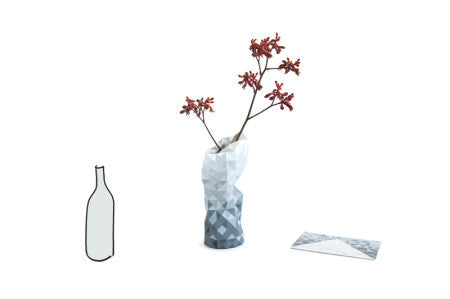 Pepe Heykoop
#lang1:
The Paper Vase is a skin to cover any empty bottle and to turn it into a vase. Adjustable in size by rolling up the paper the vase cover will fit any bottle. The triangular structure allows the paper to set around its bottle. The paper vase comes flatpacked in an envelope. Fits most bottles!
The vase covers are handmade by women of Pardeshi society in the red light district in Mumbai.
#lang2:
Deze papieren vaas is een hoes die je over een lege fles heen schuift waardoor je een vaas creëert. De onder- en bovenkant van de Paper Vase Cover zijn naar binnen te vouwen waardoor de hoogte van de vaas aan te passen is. Door de driehoekstructuur van de Paper Vase Cover is de vorm flexibel en aan te passen naar behoefte. Geschikt voor bijna alle soorten flessen!
De Paper Vase Cover wordt met de hand gemaakt door vrouwen in de Pardeshi gemeenschap. Deze gemeenschap leeft op straat middenin het red light district van Mumbai.
Sorry, there are no products in this collection