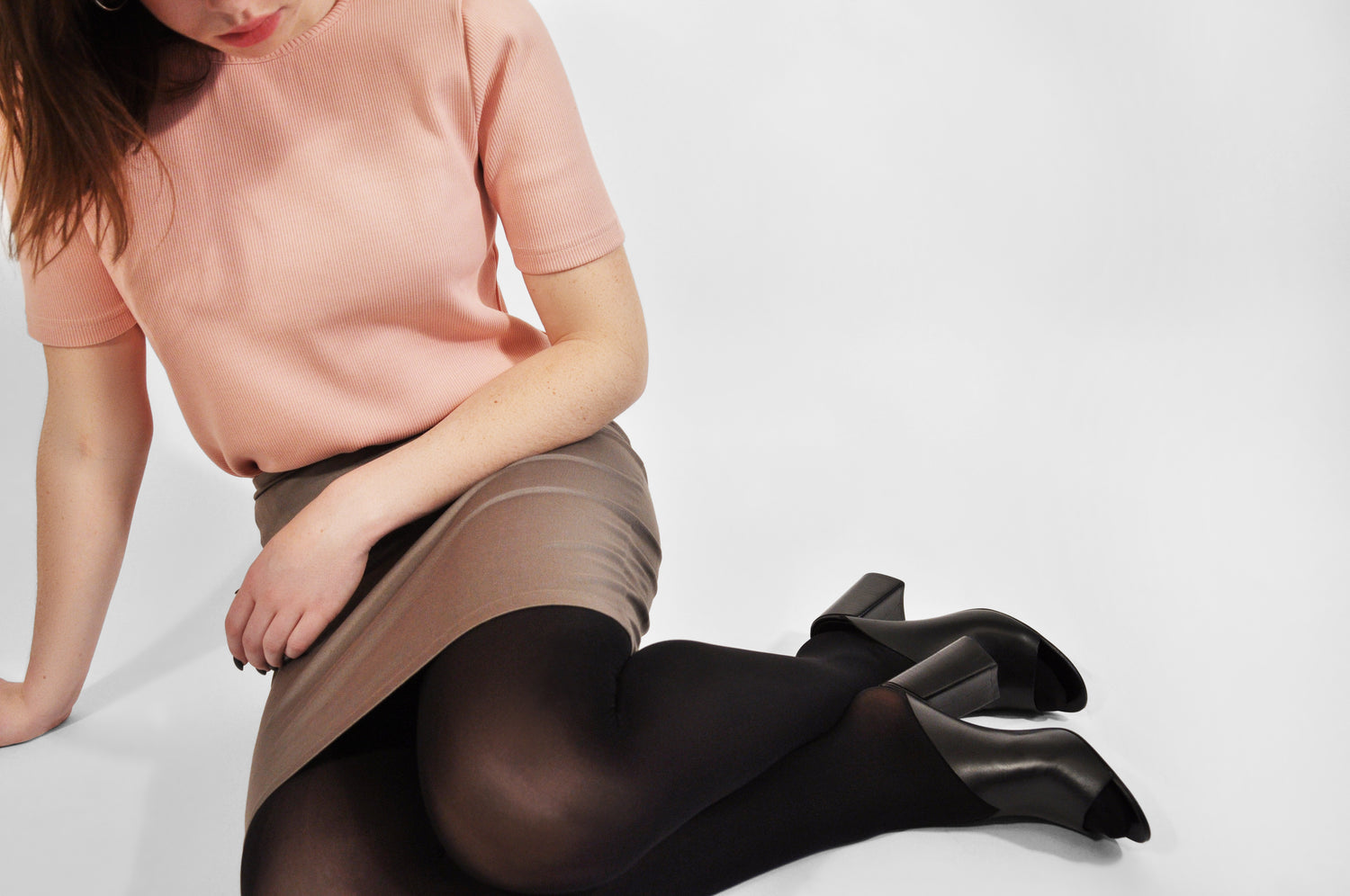 Swedish Stockings: Pioniers van duurzame beenmode
In 2013 zagen Nadja Forsberg en Linn Frisinger de documentaire The Light Bulb Conspiracy, een documentaire die blootlegt hoe producten in onze huidige lineaire economie steeds vaker ontworpen worden om snel kapot te gaan om op die manier meer verkoop te garanderen. Die documentaire deed hen plots anders kijken naar alledaagse gebruiksvoorwerpen. Forsberg en Frisinger begonnen zich vragen te stellen bij de manier waarop voorwerpen vijftig jaar geleden nog aangekocht werden om 'voor altijd' mee te gaan, terwijl we het tegenwoordig vanzelfsprekend vinden dat diezelfde voorwerpen na eenmalig gebruik bij het afval belanden. Diezelfde evolutie geldt ook voor panty's – en daar besloten ze zich op te focussen. 
Tekst: Sigrid Jacobs (Good Stuff Magazine 3)
Ooit werden panty's beschouwd als een luxeproduct. Ze waren van goede kwaliteit en werden gemaakt om lang mee te gaan. Kwam er een ladder in, dan werd die door een kleermaker hersteld. Tegenwoordig zijn panty's wegwerpproducten geworden. Vaak kan je ze maar een keer dragen voor ze beginnen te scheuren, zelfs al heb je de hele dag op je bureaustoel gezeten. Vervolgens komen ze in een vuilnisbak terecht. Wetende dat nylon panty's een productieproces vereisen dat gebaseerd is op petroleum en zeer schadelijk is voor het milieu, besloten Forsberg en Frisinger een kousen- en sokkenmerk op te richten voor de moderne, bewuste vrouw. En zo werd Swedish Stockings geboren.
"THE ONLY SUSTAINABLE HOSIERY WORDWIDE"

Elk jaar worden twee biljoen paar panty's geproduceerd, een keer gedragen en vervolgens weggegooid. Die wegwerpmentaliteit zorgt ervoor dat de textielindustrie de tweede meest vervuilende industrie ter wereld is.
Swedish Stockings hoopt met hun innovatieve en milieubewuste producten een voortrekkersrol te kunnen spelen in een vernieuwd en bewuster modelandschap. Swedish Stockings, dat zichzelf positioneert als "the only sustainable hosiery brand worldwide", heeft dan ook als missie om de hele industrie te veranderen en te beïnvloeden. Dat doen ze, kort samengevat, op vijf manieren:

(1) ze gebruiken enkel duurzame, vaak gerecycleerde materialen,

(2) garanderen een duurzaam productieproces,

(3) verzekeren de kwaliteit van hun producten,

(4) zorgen voor duurzame verpakking en transport en

(5) proberen zo min mogelijk afval te veroorzaken. 
Swedish Stockings is zo'n bedrijf dat bij elk aspect, van productie tot verpakking, nadenkt over de meest duurzame optie. De materialen die gebruikt worden voor de panty's zijn voor het grootste deel afvalmaterialen uit de nylonindustrie. Denk bijvoorbeeld aan overtollige stoffen voor sportkledij die anders weggegooid zouden worden. Nylon is weliswaar geen natuurlijk, maar een op olie gebaseerd product, maar door nylonoverschotten uit andere industrieën te gebruiken, verhindert Swedish Stockings dat die overtollige materialen ergens op een vuilnisbelt terecht zouden komen. Omdat nylon op olie gebaseerd is, zou het jaren, zo niet eeuwig duren vooraleer die materialen volledig vergaan. Alle panty's van Swedish Stockings bevatten tussen de 76 % en 97 % gerecycleerde stoffen. De rest van de panty bestaat uit elastaan – een vezel die ervoor zorgt dat de panty stretch krijgt.
ZERO WASTE EN HERNIEUWBARE ENERGIE

De productie van de panty's en sokken gebeurt in Italië. De fabriek waar Swedish Stockings mee samenwerkt garandeert hoge ethische, sociale en duurzame standaarden, drie voorwaarden waar elke fabriek of leverancier voor Swedish Stockings aan moet voldoen. Zo is de fabriek in Italië volledig zero waste, gebeurt de productie 100% op hernieuwbare energie en wordt ervoor gezorgd zo weinig mogelijk te overproduceren. Bij het verven van de panty's wordt er niet alleen 20 % minder energie gebruikt door in te zetten op hypermodern materiaal, het hele verfproces is bovendien CO2-neutraal.
De verf die Swedish Stockings gebruikt is daarnaast ook volledig vegan. 
Dat het merk zich aanhoudend blijft inzetten om steeds meer te verduurzamen, blijkt ook uit de cijfers. Swedish Stockings gebruikt 87,6 % minder energie dan conventionele nylonproducenten en bespaart 18m3 water per ton garen.
THE RECYCLING CLUB

Swedish Stockings wil graag bijdragen aan een circulaire economie, waarbij grondstoffen niet telkens opnieuw uit de aarde worden gehaald, maar hergebruikt worden. In het ideale geval wil Swedish Stockings daarom oude panty's hergebruiken om er nieuwe van te maken, maar omdat er nog geen technologie bestaat die nylon van elastaan kan scheiden, is dat voorlopig (nog) niet mogelijk. Tot die tijd hebben ze een kortetermijnoplossing bedacht: de Swedish Stockings Recycling Club. 
Onder het motto 'help us close the loop' vragen ze aan consumenten om gebruikte en/of gescheurde panty's – ongeacht het merk – op te sturen naar hun recyclageadres in Zweden. Die panty's worden dan gemalen en gesmolten zodat ze hergebruikt kunnen worden als glasvezelvulling. Die herbestemming van oude panty's zorgt ervoor dat er geen extra panty's op een afvalberg terechtkomen. Als panty's weggegooid worden, duurt het namelijk niet alleen ontzettend lang voor ze vergaan, ze lekken ondertussen ook schadelijke chemicaliën in de aarde.
Vanaf nu kan je ook je panty's naar de Supergoods winkel brengen voor recyclage! 
DUURZAAM EN MOOI
Dat hun panty's zo duurzaam mogelijk geproduceerd worden, is voor de dames van Swedish Stockings niet de enige prioriteit. Het design van de producten is voor hen net zo belangrijk als de duurzaamheid ervan. Niemand wil iets kopen dat er niet leuk uitziet, enkel en alleen omdat het duurzaam is. Swedish Stockings wil panty's en sokken herintroduceren als een modeaccessoire, als een luxeproduct dat leuk is om te dragen en waar opnieuw waarde aan wordt gehecht. 
Ze hopen dat hun duurzame producten en productieprocessen andere producenten en consumenten inspireren en ervan overtuigen dat bewust omgaan met het milieu niet betekent dat je moet toegeven op design of kwaliteit. Swedish Stockings wil een merk zijn dat duurzaam én mooi is. 
TIPS VOOR ONDERHOUD 
1. Kies de juiste maat. 
Gebruik de matentabel op de Swedish Stockingsverpakking die gebaseerd is op je lengte en gewicht. Als je tussen twee maten schippert, neem dan de grootste.
2. Stretch.
Plaats voor gebruik je ene hand onderaan één been en de andere bovenaan de panty en rek ze voorzichtig uit. Zo wordt het garen voorbereid om rond je lichaam te passen en zo gaat het ook langer mee. Doe dit na elke wasbeurt.
3. Frons ze.
In twee keer, voorzichtig en gelijk verspreid: eerst van voet tot knie en dan van knie tot boven. Pas op met scherpe nagels of juwelen!
4. Trek enkel vanaf de bodem.
Als er ergens een oneffenheid is ontstaan, probeer deze dan niet plaatselijk te herstellen, maar herbegin! Zo voorkom je dat het garen beschadigd wordt.
5. Draag met zorg
Kwetsbaardere varianten van 30 den en minder draag je best niet om te sporten. Zorg ervoor dat je vinger- en teennagels zacht geveild zijn om ladders te voorkomen en pas op met scherpe juwelen. Draag eventueel een sokje onder je panty om uitstekende tenen te voorkomen, of erover om wrijving met je schoen tegen te gaan.
6. Was na 5-6 keer dragen
Om geld, tijd en het milieu te sparen, was je je panty's best niet elke keer na het dragen. Handwas in koud water of op 30 graden met laag toerental, bij voorkeur in een waszakje, niet samen met gevaarlijke ritssluitingen,... Vermijd het gebruik van een wasverzachter, de droogtrommel. Probeer vlekken zo veel mogelijk plaatselijk schoon te maken met een mild wasmiddel.
Shop de collectie hier, en vergeet niet je oude panty's bij Supergoods te brengen.